I discovered Veronica Henry's books a couple of years ago and I have been a fan ever since.  This is her most recent novel.
Title: A Home From Home
Author: Veronica Henry
Format: ARC ebook
Publisher: Orion Publishing Group
About the Book:
Sunshine, cider and family secrets…
Dragonfly Farm has been a home and a haven for generations of Melchiors – arch rivals to the Culbones, the wealthy family who live on the other side of the river. Life there is dictated by the seasons and cider-making, and everyone falls under its spell.
For cousins Tabitha and Georgia, it has always been a home from home. When a tragedy befalls their beloved Great-Uncle Matthew, it seems the place where they've always belonged might now belong to them…
But the will reveals that a third of the farm has also been left to a Culbone. Gabriel has no idea why he's been included, or what his connection to the farm – or the Melchiors – can be.
As the first apples start to fall for the cider harvest, will Dragonfly Farm begin to give up its secrets?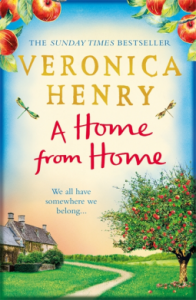 My Thoughts:
As I said at the beginning of this post, I'm a fan of Veronica Henry's work and this book had me hooked.
There are a few story threads that you must follow and there is back story that is interwoven as the book proceeds, but I feel Henry succeeds in doing this.
There are various family members mentioned in the book from both families (the Melchior and Culbone) and as the book proceeds you find how even though there is a long standing feud because of a tragedy, their lives are entwined.
Utterly addictive reading.
Many thanks to Net Galley and the publisher for the review copy.