As I mentioned in my previous post, towards the end of last year, my reading slowed down rather a lot.  I've entered 2020 with the hope of renewed enthusiasm for books.  As has been the case in previous years, this will include books written by Australian women.  Hence choosing my first fiction read of 2020 to be written by an Australian woman was almost a given.
Title: Gravity is the Thing
Author: Jaclyn Moriarty
Format: ebook
Publisher: Atlantic Books – Allen & Unwin
Source: Net Galley
About the book: 
A single mother's search for the greater truths about the universe, her family and herself – that will break your heart into a million pieces and then put it back together, bigger and better than before.
Twenty years ago, Abigail Sorenson's brother Robert went missing one day before her sixteenth birthday, never to be seen again. That same year, she began receiving scattered chapters in the mail from a mysterious guidebook, whose anonymous authors promised to make her life soar to heights beyond her wildest dreams.
These missives have remained a constant in Abi's life – a befuddling yet oddly comforting voice through her family's grief over her brother's disappearance, a move across continents, the devastating dissolution of her marriage, and the new beginning as a single mother and café owner in Sydney.
Now, two decades after receiving those first pages, Abi is invited to learn 'the truth' about the book. It's an opportunity too intriguing to refuse – she believes its absurdity and her brother's disappearance must be connected. What follows is an entirely unexpected journey of discovery that will change Abi's life – and enchant readers.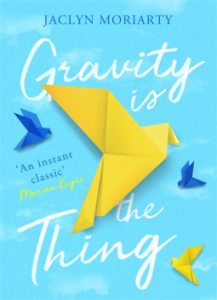 My Thoughts:
This is an intense book.  It's got some pretty heavy subject matter included in it.  Take for instance the fact that one day Abi's brother Robert leaves their house and never returns.  Recently he had been diagnosed with MS.  Perhaps this was part of the motivation for him leaving.  But it is sad.
Around this time Abi starts receiving excerpts of a guidebook.
Twenty years later she is invited to attend a course as are others who also received the excerpts as teenagers.  The book then flits back between the present and the past, which I found a bit distracting at times.
There are quite a few passages that I found rather moving.  Plus I always like reading books that are set in Sydney (given this is the city where I grew up).
We get more back story of Abi's life including her meeting Finn and then them getting married and eventually moving to Montreal, where things unravel.
The story then settles into the present day where Abi runs a cafe and looks after her son Oscar.
I'm glad I persisted in finishing the book.  It's packed full of interesting passages and I did enjoy reading it.