Ah Italy what a draw card you are.  How many millions of people around the world share a love of your land and its people.  Living in Italy for over 7 years taught me a lot about the country, although I am sure that had I stayed my education would have increased even more.
So let me tell you a little about this book that I have just read.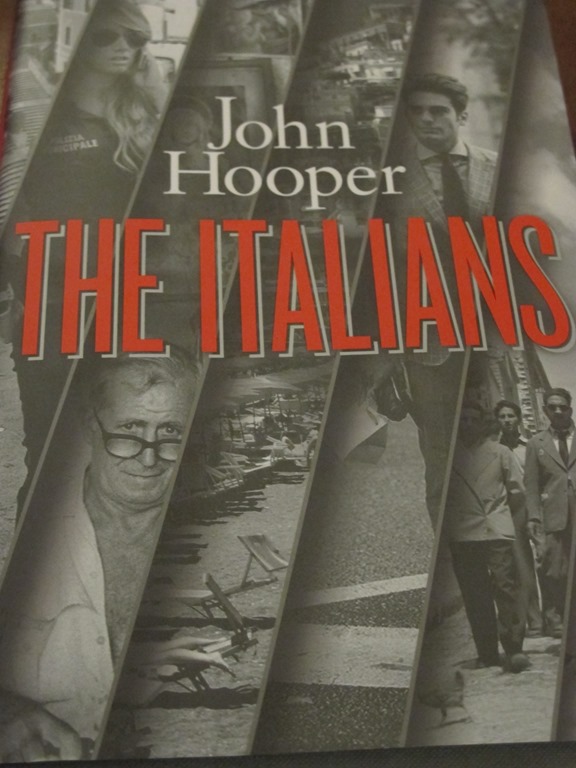 About the book:
John Hooper's entertaining and perceptive new book is the ideal companion for anyone seeking to understand contemporary Italy and the unique character of the Italians.  Looking at the facts that lie behind – and often belie – the stereotypes, it sheds new light on many aspects of Italian life: food, football and Freemasonry; sex, symbolism and the reason why Italian has twelve words for a coat hanger, yet none for a hangover.
The Italian way is to do first, and ask permission later, if at all.
My thoughts:
I really enjoyed this book and I certainly would say that I picked up some interesting comments about the country and its people within it.  I think the subject matter is dealt with objectively by someone who has been based in the country.
I thought that the way that the book was divided into the 19 chapters was also good.  Some of the topic areas covered include:
a brief history lesson, politics, the nation's preoccupation with football, the importance of family, gnocchi on Thursdays, the Mafia and racommandazione.
I also liked the way that each chapter begins with a quote like the one below that is cited at the beginning of Chapter 13 – 'People who don't dance'.
Fidarsi è bene, non fidarsi è meglio.

To trust is good, not to trust is better.                       Italian proverb
Some of the quotations are longer than that, but they act as a good springboard into the chapter, as does the last sentence of the previous chapter as well.  That certainly made it hard to stop reading at the end of the chapter, as I wanted to keep on going.
I am grateful to have discovered this book by Hooper and I will certainly be reading it again.
Rating: ★★★★★★
Published by Allen Lane, an imprint of Penguin
RRP: £20.00 hardback
About the author:
John Hooper is Italy correspondent of the Economist and Southern Europe editor of the Guardian and Observer.  He has spent more than thirty years as a foreign correspondent, reporting principally from the Mediterranean, but also on the conflicts in Northern Ireland, Kosovo and Afghanistan.  His book The Spaniards (later revised under the title The New Spaniards) has established itself as a classic.  The Italians is the fruit of more than 15 years based in Italy.
Review copy courtesy of publisher.