We are in the midst of a global pandemic and unsure of how long things will be affected by this situation.  The UK is currently in lockdown and there are other countries that are in the same situation.  But I didn't want an air of negativity on this blog post.  I have seen posts online and received emails through about books and reading.  Reading is something that we can continue to do as we are based at home for the foreseeable future.
Title: The Jetsetters
Author: Amanda Eyre Ward
Format: ebook
Publisher: Penguin Books (UK)
Source: Net Galley
About the book: 
A family reunited on a holiday of a lifetime…what could possibly go wrong?
When 70-year-old Charlotte Perkins submits an essay to the 'Become a Jetsetter' contest, she dreams of reuniting her estranged children: Lee, an almost-famous actress; Cord, a handsome Manhattan venture capitalist; and Regan, a harried mother who has never forgiven Charlotte for buying her a Weight Watchers gift certificate for her birthday.
But when she wins the cruise, the reality is not quite as she expected. As they sail from sun-drenched Athens, to glorious Rome, to tapas-laden Barcelona, lovers old and new join the adventure, and long-buried secrets are revealed.
Can four lost adults find their way back to themselves, and to each other? And more importantly, can they do it without killing each other?
A funny and deliciously sun-scented novel about the courage it takes to reveal our true selves, the pleasures and perils of family, and how we navigate the seas of adulthood to cruise – we can only hope – toward joy.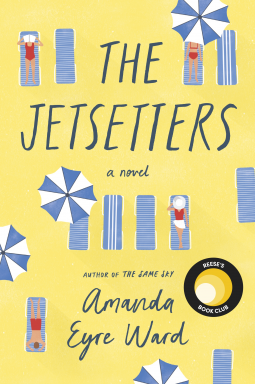 My Thoughts:
The first thing that appealed to me about this book was the fact that it involves travel.  I also liked the idea that the main character Charlotte wins a competition and therefore can take her family on holiday with her. Charlotte has three children: Lee, Cord and Regan.  The book is broken up into chapters where each of the main characters are focused on.  They all have their own personal issues and they haven't seen one another for a long time, which made me wonder how the holiday was going to go.
It is certainly full of drama and secrets that the family members are keeping from one another.
I did like the travel aspect of this book, I thought the fact that most of it is set on a cruise ship that docks into various European ports made it interesting.
It does deal with serious issues including suicide, but it is written about in a subtle way.  It certainly doesn't feel like a depressing read.
I warmed to all the characters in the book.